Smart

T

ravel

– Embrace the Adventure
Whether you're looking for the best work commuter options, things to do in Queenstown with kids, or trying to figure out if Lupin Lake Tekapo really is the most beautiful nz destination, Smart Travel can help you make it happen.
We'll help you find the best travel ideas, the best routes, and the best ways to get there by helping you to travel smartly. On top of that, we'll help you make climate friendly transportation options, so that you can travel stress-free.
What

does it mean to

travel

smart

?
While travelling is at the top of many people's bucket list, it can also be intimidating and scary. There is a large range of decisions to be made: whether to travel alone or with someone, where to travel, what to pack, what to visit, etc. Preferably, as travel is by nature expensive, it should also be done on a budget. That is where smart travel comes in.
Smart travel is all about finding the right tools to create a smooth and sustainable trip, whether your destination is your office or an awaiting adventure. This can be done by reading packing hacks, learning which travel insurance is best, as well as find the cheapest means of transportation.
Travel and transport in New Zealand
What does transportation in New Zealand look like today?
In total, the transportation sector makes up close to 20 per cent of national emission levels. Most New Zealanders travel by car or van every day and spend 1 hour a day in the car on average. When it comes to public transportation such as bus, ferry or train, 63 percent have not used it at all as a means of transportation in the last year.
This shows that the majority of Kiwis are taking personal vehicles an overwhelming majority of the time. While electric cars are becoming more popular and common, there are plenty of ways that people can keep reducing their personal ecological footprint when it comes to transportation.
Opportunities vary by region
When looking at these statistics, especially when it comes to public transportation, it's important to consider regional variety and opportunity. The statistics show that while 77 per cent of Wellingtoners use public transportation, only 17 per cent of the rural population do. Even in Auckland the number differs down to 51 per cent of public transport users.
Especially because the opportunity and accessibility to use public transportation varies by region, it's important to look at other smart travel options. For example, it is worth looking up variations of car sharing, carpooling, and road tripping to enhance travelling experiences.
Carpooling is not just advantageous for that rugby game or school event – it can actually be a really feasible way to get to any type of destination. Whether you need to get to work, to your hobby, or on an adventure, carpooling can be both cheaper and safer. Furthermore, it's a fun way to share resources and split the costs.
With today's technological developments, it's easy to create and/or join carpooling groups online. There are also apps designated to help you find your best car sharing options.
There are many reasons for why ride share nz can be advantageous. Not only is carpooling often a cheaper option to taxis, but it is also a great way to organize climate friendly travel.
Carpooling can also be a safer option, especially for people who are at a higher risk of discrimination and violence if travelling on your own. It is always a nice perk to be able to call on other people if a situation was to turn bad or you are in need of assistance.
You are also saving time in the long run, as you aid in cutting down on rush hour traffic congestion by limiting the amount of cars on the road. Lastly, it is also a practical way of meeting and making new friends.
Wanting to but not able to find a good car pool nz option? Not to worry. We will help you find the best ridesharing options to take you where you need to go. That way you can carpool wellington for a weekend in the capitol or get a smoother ride to work.
We'll help you review shared ride sites such as Coseats and Shareyourride so that you can focus on more important things.
Are you in the mood for an adventure? Why not make a smart road trip through New Zealand?
New Zealand is famous for its gorgeously diverse natural sightseeing opportunities. As a result, it's a most appropriate place for a NZ road trip. Furthermore, it's a great way to build new relationships or deepen existing ones by creating an experience you'll never forget. Plus, it can be more affordable than flying or taking a bus, and you can go at your own pace.
By following our travel planning guides, the entire country can become your playground. Explore our website to find the best road trip destinations nz and more.
Are you an i

nternational traveller?
If you are an international traveller who is looking to road trip your way around the northern and southern islands, there are a few transport facts to remember when planning your trip.
For example, New Zealand engages in left side driving. Furthermore, the country does not specialize in motorway systems. Rather, these types of roads are limited to city areas whereas a lot of the country is connected by two-way single file roads with winding and steep landscapes.
As a result, it's important to calculate your timing with some extra margins, rather than being time optimists for long distance trips.
It is not unusual for people arranging trips to experience travel planning nervousness. Although this can be one of the most fun parts of a trip as you explore what there is to see and pick your preferences, there are many factors to consider in order to make a trip come together.
Luckily, there is a plethora of easily accessible tools and tricks to make the process easier. For example, there are tools such as a mileage calculator or a fuel cost calculator may come in handy, as well as a large range of other planning tools.
Our guides can help you with large scale planning, such as travel itineraries and packing lists, as well as exploring transportation options and money saving trip-tips.
To ensure that your travel is as smart and smooth as you want it to be, there are some things to consider before you start your smart lifestyle. Here are a few tips to get you started:
Do your research: Read reviews, compare prices, and check out photos before you book anything. This will help you avoid any surprised when you arrive at your destination or meet-up spot.

Start early: The sooner you start planning, the better. This will give you more time to research and make sure you are getting the best deal on transportation and accommodation. If you are looking at carpooling options, this will also give you time to look at back-up plans just in case.

Make a budget: Decide how much you are willing to spend on your trip. This will help you narrow down your options and find the best deals.

Be flexible: If you are flexible with your travel dates, you may be able to find better deals. For example, this will give you less stress in case something were to come up or not go as planned, such as a cancelled car-share.

Have fun: If you are used to driving on your own, changing your transport to a smart car sharing option might feel intimidating. However, if you see it as a fun adventure rather than a chore, it is guaranteed to make you more excited for your day.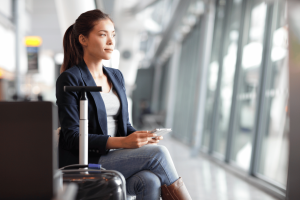 One of the potentially most stressful kind of adventures are those of work-related trips. Whether